Design and implementation of a bioclimatic housing prototype for the Bolivian highlands
Keywords:
Prototype, Bioclimatic housing, Alternative energies, Energy efficiency, Design
Abstract
The Mechanical - Electromechanical Engineering research institute, made up of a multidisciplinary team, designs and implements a bioclimatic housing prototype for the Bolivian highlands, located near the Andes Mountains at an altitude of 3,000 to 4,000 meters above sea level. This project was developed and implemented with financing from the Swiss Cooperation for Bolivia, within the Climate Change Adaptation projects.
The design process includes: the sociocultural study of the inhabitants of the region, where direct information is collected from the peasants on the conception of housing in their culture and ancestral construction characteristics of their houses. Subsequently, the climate of the region (temperatures, solar radiation, winds and relative humidity) is characterized with the help of a meteorological station, which provided historical records of 5 years. Those data were sufficient to be able to carry out a reliable characterization, with which the Typical Meteorological Year is determined.  Likewise, local construction materials that may be useful in the design are studied, analyzing their thermal and mechanical properties in the laboratory.
Finally, with all the information described, an architectural design is carried out taking into account bioclimatic aspects, ways of harnessing solar energy, distribution of the room and a viable construction cost for the economic reality of the region. The developed architectural model is optimized in an energy simulation program (Siter Vs. 1.2), achieving energy savings of 65%. The software used is owned property of the research institute
The house has been monitored with temperature sensors for about a year and six months, to date it shows good results, where the correct functioning of the elements and constructive forms is evidenced, reflecting a temperature inside the house of around 10 °C above room temperature 24 hours a day.
Downloads
Download data is not yet available.
References
UMSA, Universidad Mayor de San Andres. Geomagnetism and meteorology labora-tory in Patacamaya. La Paz: sn, 2006 - 2016.
SENAMHI. National Service of meteorology and hydrology. [Online] June 10, 2017. [Cited on: June 10, 2017.] http://www.senamhi.gob.bo.
ASHRAE, Handbook of Fundamentals. American Society of Heating Refrigerating and Air-Conditioning Engineers, Inc.Atlanta: sn, 2001.
Tables of solar altitude and azimuth; Intensity and solar heat gain tables. Stephen-son, DG 1967, Division of Building Research, National Research Council of Canada, Ot-tawa No 243.
Benford, F. and JE Bock,. A Time Analysis of Sunshine. Trans. Am. Illumin. : Eng. Soc., 1939. 200.
QUANTIFICATION OF SOLAR ENERGY FOR THE CITY OF ORURO BASED ON THE SOLARIMETRIC DATA OF THE METEOROLOGICAL STATION OF THE CARRERA DE ING. MECHANICS ELECTROMECHANICS. Edgar, Peñaranda Munoz. 2013, p. 9.
ENERGY, U S Department of Energy Pluss. [Online] September 10, 2014.
http://apps1.eere.energy.gov/buildings/energyplus/weatherdata_about.cfm.
John A. Duffie, William A. Beckman. Solar Engineering of Thermal Processes. United States of America: acid-free paper., 2013.
https://doi.org/10.1002/9781118671603
ORT, Faculty of Architecture University. Manual of solar thermal energy and associ-ated installations. Uruguay: Grafinel Press, 2009.
The Interrelationship and Characteristic. Liu, BYH and RC Jordan,. 1960, Solar En-ergy, p. Four.
J. Pinazo, "Air Conditioning Manual Volume II", Polytechnic University of Valencia, Spain - 1996.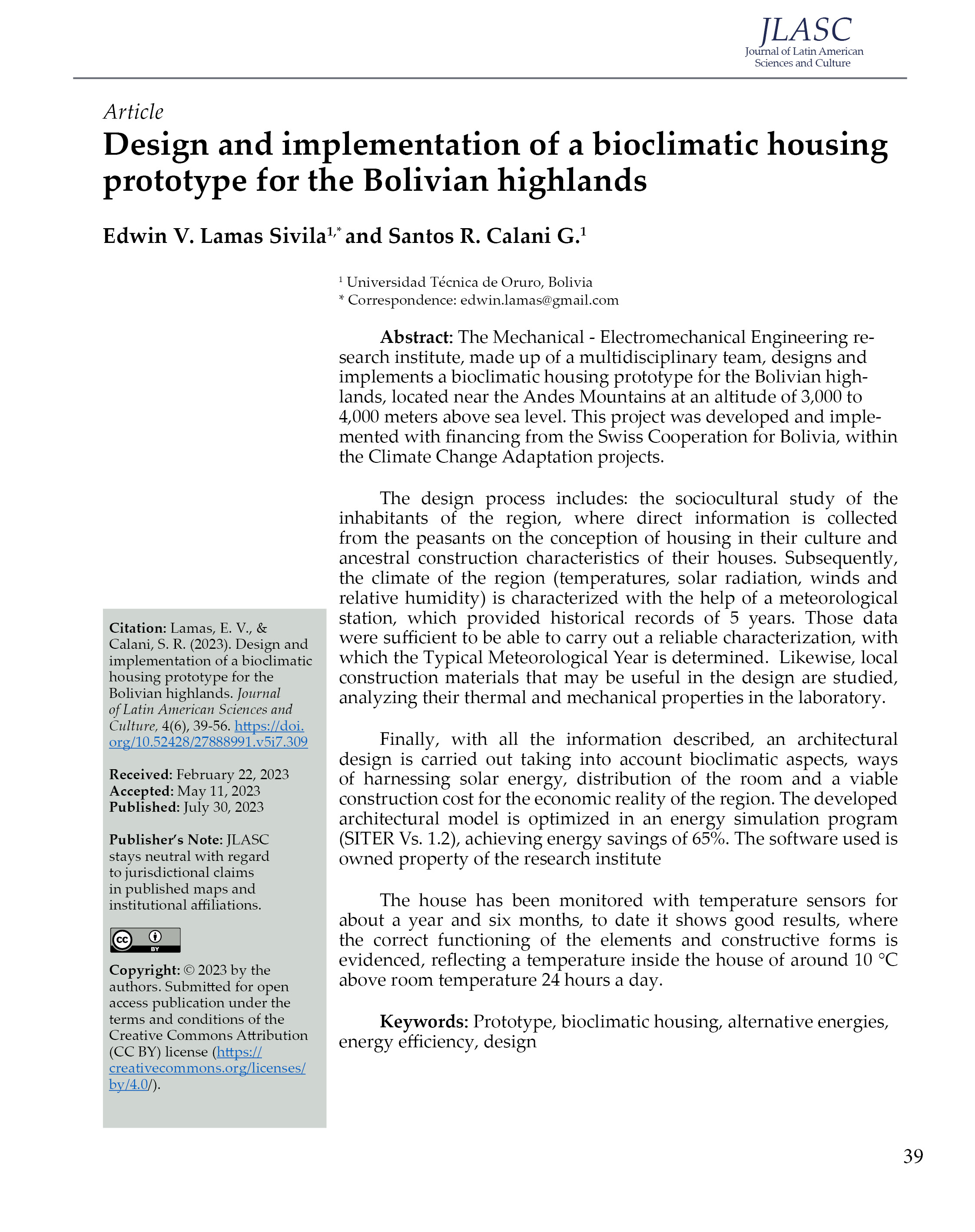 Downloads
How to Cite
Lamas, E. (2023). Design and implementation of a bioclimatic housing prototype for the Bolivian highlands. Journal of Latin American Sciences and Culture, 5(7), 39–56. https://doi.org/10.52428/27888991.v5i7.309
License
Copyright (c) 2022 Edwin Lamas
This work is licensed under a Creative Commons Attribution 4.0 International License.
Authors who publish in this journal accept the following conditions: The authors retain the copyright and assign to the journal the right of the first publication, with the work registered with the Creative Commons 4.0 attribution license, which allows third parties to use what is published as long as they mention the authorship of the work and the first publication in this journal.  Authors may make other independent and additional contractual agreements for the non-exclusive distribution of the version of the article published in this journal (eg, include it in an institutional repository or publish it in a book) provided that they clearly indicate that the work it was first published in this magazine. Authors are allowed and encouraged to share their work online (for example: in institutional repositories or personal web pages) before and during the manuscript submission process, as it can lead to productive exchanges, more and more quick citation of published work.